NACV-meeting 2020


Lessons Learned: The Good, The Bad & The Ugly
16e Expertmeeting: 17 januari 2020
Voor deze NACV-meeting willen we niet alleen vooruitkijken maar ook terugblikken: wat hebben we allemaal geleerd de afgelopen (15?) jaar als het gaat om (onderwijs in) academische communicatieve vaardigheden? Wat helpt onze studenten vooruit om beter te presenteren, te schrijven, te luisteren of te lezen? Wat zijn succesnummers gebleken en waar is dat succes aan te danken? Welke inspanningen hebben we gedaan waarvan je denkt "dit nooit weer op deze manier"? Hoe werken we goed of minder goed samen met vakdocenten in het curriculum? Hoe overtuigen we beleidsmakers om verbeteringen te ondersteunen of wat werkt dan helemaal niet?
Het wordt een leerzame dag om kennis op te doen en vooral om ervaringen uit te wisselen. Het gevarieerde programma met verschillende werkvormen is opgedeeld in vier stromen:
(1) Academisch Schrijven
(2) Academische Mondelinge Communicatie
(3) Leerlijnen en Vakintegratie
(4) "Varia"
Programma 17 januari 2020 (definitief)
Aanmelden voor de 
NACV Expertmeeting 2020 
Voor aanmelden klik op onderstaand formulier: 
Aanmeldformulier

Locatie & bereikbaarheid NACV meeting
De NACV meeting zal plaatsvinden op de UCU campus in Utrecht, in twee gebouwen: de Dining Hall en de Locke Hall. De dag begint in de Dining Hall. Hier zal de registratie, opening en de eerste keynote plaatsvinden. Ook de lunch, tweede keynote en de koffie- en theepauze zullen in de Dining Hall zijn. Alle presentaties vinden plaats in de Locke Hall.
Plattegrond van de UCU campus (zie hieronder), of klik hier voor een vergroting: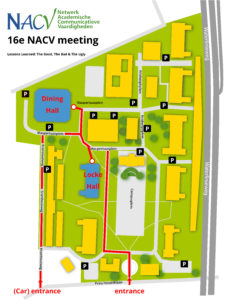 Het adres van de Dining Hall is:
Maupertuusplein 1, Utrecht.
De UCU campus is bereikbaar per fiets, auto en met het openbaar vervoer. Routebeschrijvingen zijn beschikbaar op deze webpagina.

Keynote sprekers
Keynote 1 – Morning (09.45-10.30): 
Stan van Ginkel
Fostering oral presentation skills by making use of virtual reality
Presenting is considered as a core competence of the higher educated professional irrespective of domain. However, students often fail to substantially develop their presentation skills during their studies. Besides, presenting is frequently named as one of their prevalent fears in social situations. Especially in times when student numbers are rising while possibilities for teacher-student interactions are diminishing, curriculum designers and skills teachers are challenged to effectively design learning environments for such academic skills in the higher education context. That is why a Teacher Education Institution in Utrecht started, almost three years ago, a VR-Lab aiming to develop a personalized learning environment in which students can rehearse their presentation performances in front of virtual audiences and receive feedback on presentation delivery aspects generated by the VR-system. The design of the learning environment, consisting of instructions, learning activities and formative assessment strategies, is based on scientific research as recently published in top-journals such as Educational Research Review and Computers & Education. This session highlights the set-up of the VR-Lab, discusses a recently conducted VR-experiment in realistic presentation skills courses of a Dutch university and presents the developed personalized VR-tool 'Presenting with impact'. At last a validated oral presentation rubric which can be used not only in a VR setting, but in any classroom, will be presented.
Keynote 2 – Afternoon (13.30-14.10): Miles Wischnewski
When silence speaks: speech production in the brain
Using transcranial magnetic stimulation (TMS) we have the ability to make the brain more or less active for a short amount of time. The best thing: it is safe and has no side effects. By influencing brain areas and consequently human behavior with TMS, neuroscientists can learn about the specific function of a particular brain location. As such, it was found that one brain area that is crucially involved in speech production is the so-called 'Broca area', which is located in the left side of the brain a few centimeter behind the eye. This area controls all small muscles that are relevant for speech, such as the tongue, vocal chords and the larynx. Disrupting this area with TMS can completely block speech production, hence one falls silent.
Previous neuroscience studies have shown that brain structures do change after learning. Therefore, Broca area changes when learning a new language, meaning that the brain cells for a new language might be located slightly differently compared to the brain cells that are used for your mother tongue. This can be neatly demonstrated using TMS.

NACV-meeting 2019